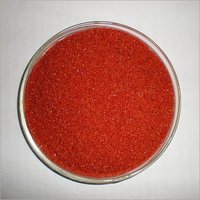 Nitrophenolate
Product Description
Nitrophenolate is noted as a phenolic compound, which has a nitro group at the opposite spot of the hydroxyl assembly on the benzene ring. It is a phenolate anion which is the conjugate base of 4-nitrophenol; major types at pH 7.3. This chemical has a role as a human xenobiotic metabolite and serves as a conjugate base of a 4-nitrophenol. It is noted an intermediate in the synthesis of paracetamol and is also applicable as the precursor for the preparation of phenetidine as well as raw materials, acetophenetidine, indicators, and for fungicides. Bioaccumulation of the Nitrofinolate rarely occurs.


Key Points of Nitrofinolate:


Works as the product of the enzymatic cleavage of numerous synthetic substrates, are applicable to assay several glycosidase enzymes. Amounts this compound made by a specific enzyme in the existence of its consistent substrate can be measured.
Should be used with caution, when ingested abdominal pain, vomiting and allergic response can happen. Complete ionization of the alcohol functional group affects the conjugation of the pi bonds on the compound.
In the laboratory, it is applicative to detect the presence of alkaline phosphatase activity via hydrolysis of PNPP. Easily soluble in water, can dissolve in polarity organic solvent such as ethanol, and acetone methanol.
It is a variety, which is widely employed as a plant growth regulator, and can penetrate to the body of plant quickly. It offers the activity significantly to cells, to stimulate the cytoplasm circulation and comes with powerful osmosis.